Advantages and Disadvantages of Remote Work.
Is it suitable for me?
How to deal with disadvantages?
WE RECOMEND USING DESKTOP DEVICES WHILE TAKING OUR E-COURSE
WATCH THE SHORT INTRO VIDEO
Advantages and disadvantages of remote work. Is remote work for me?
Hey so how about we speak about what's good and what's challenging in remote work? Let's see if it fits you.

Remote work is on the rise and with the Covid 19 pandemic it started to get the recognition it well deserves.

Remote work has a lot of advantages, such as flexible schedules, more free time, being able to work from anywhere, and that's some of the many reasons people want to switch or continue working remotely.

But not everything is perfect and remote work has some challenges that make some people want to get back to working in the office. Some of the many reasons are the lack of contact with colleagues, not being able to stop working and decreasing motivation.

In this Module we are going to discuss this and much more, and in the end you will be better informed to understand if remote work is something for you or not.
SuRVEY WHERE both youngsters and businesses shared their vision about pluses and minuses of remote work
In the context of the Gen Z Digital Workforce project several groups of young people, in addition to small and medium-sized enterprises and employment agencies, have participated in a survey with the intent of understanding from a youngster and a businesses level, the different opinions, the advantages and disadvantages of remote work.

The groups were formed of 20 participants around the age of 18-30, including those with fewer opportunities, residing in 5 different countries, Italy, Denmark, North Macedonia, Hungary and Portugal.

Surveys were done individually for each country, with the intent of understanding and comparing how the youngsters and businesses from each respective country viewed remote work and what is being practiced at the moment.

We asked questions to participants such as: would you like to work online? Which soft skills are most important for online work? We asked similar questions to businesses in order to see if the employer and employee perception about working online was on par.

From a quick overview we were able to conclude that young people from different countries have some similar opinion about remote work with most of them being willing to give it a try. In the businesses department we saw some countries that are still struggling with this new norm and others that are committed to embracing it and making it a viable option for future employees.
WHAT WOULD YOU DO IF YOU HAD THE LIFE YOU ALWAYS DREAMED OF
Advantages and disadvantages of remote work – sourced from our report and the global reports like Buffer.com from 2022
In order to get a better understanding about the state of remote work, we have to get answers from those who are doing it and being affected by it, people.

While remote working has been a thing for a couple of years now, it only really took off and got well recognized after the Covid 19 pandemic, where a big part of the workforce had to change the way they were used to work.

With this sudden change, we were left with some important questions. To get the answer we were looking for, we ran our own questionnaire, allied with a 2022 report from Buffer regarding the state of remote work. We want to highlight some statistics and interesting finds about the state of remote work. What employees and employers think about it.
OF EMPLOYES IN ITALY WOULD LIKE TO WORK ONLINE
OF COMPANIES IN ITALY OFFER ONLINE WORK
OF EMPLOYES IN DENMARK WOULD LIKE TO WORK ONLINE
OF COMPANIES IN DENMARK OFFER ONLINE WORK
OF EMPLOYES IN PORTUGAL WOULD LIKE TO WORK ONLINE
OF COMPANIES IN PORTUGAL OFFER ONLINE WORK
OF EMPLOYES IN N.MACEDONIA WOULD LIKE TO WORK ONLINE
OF COMPANIES IN N.MACEDONIA OFFER ONLINE WORK
In these Questionnaire's results we can understand how young people from different countries have a comparable feeling towards wanting to work online. Even though some of them haven't tried it yet and are still unsure if it would be something that they would like to do, it still sounds promising.
On the contrary we can see that in both Italy and Denmark the enterprises we talked to are not at all on the same page as the workforce from their country.
DO YOU THINK CAREER GROWTH IS MORE OR LESS DIFFICULT FOR REMOTE WORKERS TO ACHIEVE?

From the Buffer report we gathered some interesting questions that highlight how already remote workers with experience view their work.

From this first question, it shows that almost half of the interviewed found that career growth while remote working is more difficult. For some executives, remote employees, especially junior ones, have a harder time making connections and learning from peers while working remotely.
While 86 percent of employees either wanted fully-remote or remote-first work environments going forward, there is still a small percentage of people that would like to have the ability of having some regular office time.
WHAT KIND OF REMOTE WORK STRUCTURE WOULD YOU LIKE TO HAVE?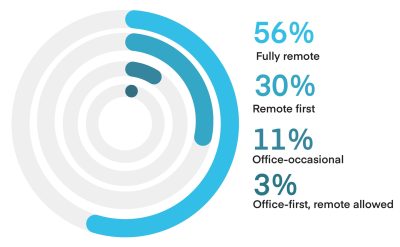 HOW DOES YOUR COMPANY SUPPORT YOU WORKING REMOTELY?

As we can see from this chart, the 4DWW was the least common policy between employers, but the most desirable one. With 69 percent of employees saying they wished their organization had this policy in place.
WHAT BENEFIT(S) DO YOU EXPERIENCE BECAUSE YOU WORK REMOTELY?
FLEXIBILITY IN HOW I SPEND MY TIME
FLEXIBILITY TO CHOOSE MY WORK LOCATION
FLEXIBILITY IN MY CAREER OPTIONS
ITS BETTER FOR ME FINANCIALLY
FLEXIBILIT TO LIVE WHERE I CHOOSE
I HAVE MORE TIME BECAUSE I DON'T COMMUTE
THE ABILITY YO BETTER FOCUS IN MY WORK
The top two benefits of remote work people cited are perhaps unsurprising: flexibility in how they spend their time and flexibility to choose their work location.
WHAT STRUGGLES DO YOU HAVE WITH WORKING REMOTELY?
I DON'T HAVE ANY STRUGLES WORKING REMOTELY
WORKING ACROSS TIME ZONES
DIFFICULTIES WITH COLLABORATION AND COMMUNICATION
CAREER ADVANCEMENT OR GROWTH
Like anything, there are pros and cons to remote working. Some didn't find anything particularly challenging, but others report not being able to unplug from work and struggling with feelings of loneliness.
How to deal with disadvantages of remote work
As more and more people are working remotely, and as a big part of this workforce would like to continue working remotely at least occasionally for the rest of their careers, symbolizing an important shift in the established way of working. We have started to see some of the most significant drawbacks from this shift.

While conducting research for this topic we were able to highlight 4 major pain points when it comes to working remotely and some recommended strategies that can mitigate these feelings
Loneliness and lack of human interaction
One of the many perks of working from home, besides wearing almost whatever you want, because no colleagues will be around to judge, and being able to do chores around the house in your coffee break, is the lack of human interaction from your peers and colleagues.

This can be a big plus for some people, but as with almost everything after a while it gets boring and you start feeling the effects of this inherent isolation. With some people finding it hard to break out of the home environment even after finishing work.

So what kind of strategies can you use to reduce this feeling of Loneliness and lack of human interaction?
Giving and receiving feedback remotely
Giving and receiving feedback can be seen as a daunting task for a lot of us.

But you need to understand that this is not about you or your colleagues, but the work being discussed and a key element for good results and communication. While working remotely many teams are more likely to skip some "less-essential" feedback discussions and only take time for the absolute essential revisions. Increasing miscommunication, and leading to a less efficient and organized team.

Here are some strategies that can be used while giving feedback.
prioritizing work and avoiding interruptions
Prioritizing work

2 key skills to have while remote working are self-motivation and good time management. You are on your own, with no constant supervision of your colleagues or manager. You have to know how to manage your time and prioritize work in order to not fall in the trap of thinking you have all the time in the world and then you end up the next day with nothing to show, because you just wanted to finish one more episode on your lunch break.

Here are some strategies that will help you prioritize your tasks:
Interruptions

When working from home you can avoid office related interruptions. Unfortunately, most likely you will have to deal with other home environment distractions, especially if you have young kids, other relatives living in the same house as you, pets and many others. Which can lead to some less than pleasant interactions, simply because you have to work.

Here are some ways in how to deal with interruptions at home:
take the module 1 quiz to find out how compatible you are for remote working
bravo! you concluded the first module of this e-course
take a break before the next module and let us know how you relate to the memes we created for you